Tue, Feb 08
I Heard You Say
It's nice when you pick up a new drummer and actually return to form, the fortunate fate of the Vivian Girls as evidenced on new single "I Heard You Say." The group's third album and first after Ali Koehler booked it for Best Coast, Share The Joy is a title that playfully jabs at the sad and sultry crooning that makes these girls so great. More akin to the rough and tumble garage pop of the debut self-titled than 2009's Everything Goes Wrong, it'll please the veterans and newcomers alike, so it's back to cry clap cry clap for everyone.
Mon, Jan 31

Manar The Magic (feat. Mike Watt)
Who better than former Minutemen bassist Mike Watt to cameo on "Manar The Magic," the latest track from fellow Californians Tera Melos, who share the penchant for melding mediums. The electronics, channeling a toddler repeatedly rolling up and down a keyboard, provide a nice groundwork for the band's signature start stop sound. "Manar The Magic" is from the forthcoming EP Zoo Weather, the d-side to last year's Patagonian Rats out Februray 22 on Sargent House.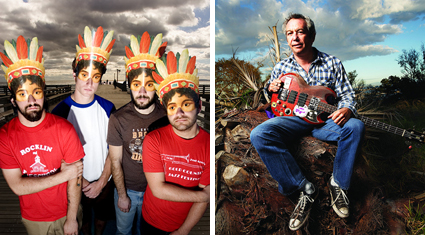 Thu, Jan 20

Mine Is Yours (Passion Pit remix)
"Mine Is Yours" is Cold War Kids' classic Long Beach cool with still a little bit of a tug on the heartstrings. Passion Pit add their power of pop to the remix, crafting it into a Night Under The Stars school dance—the slick black dress, an orchid corsage and an even-closing twirl with the cutie from your earth science class (or, creative writing seminar, if you're a right side of your brain-er). Cold War Kids' new album Mine Is Yours is out January 25 on Downtown.