L M U
Lightbox of Magic Unknowledge is a brand new supergroup founded by Iggor Cavalera (Petbrick, Sepultura), Joe Goddard (Hot Chip) and Laima Leyton who is fresh off her solo debut for Deewee/The Vinyl Factory. L M U is Functional Music. The first volume consists of two tracks recorded live in Joe Goddard's London studio by the trio with the clear intention of creating meditation sounds. The cassette features artwork designed by Nicholas Restivo and is limited to 100 hand numbered copies, printed on 100% recycled card stock and packaged in a hand stamped box.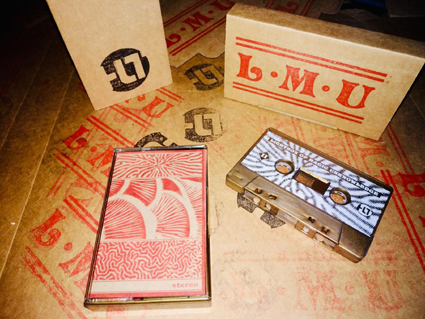 Polygondwanaland
RETROGAMING SUPERFUTURE CASSETTE
King Gizzard & The Lizard Wizard is the craziest band around and my favorite guitar heroes today. The aussies are engaged in the effort to release five albums in 2017 and I'm very pleased to announce the HLT cassette release of their last album 'Polygondwanaland'. The retro-futuristic sound of the King Gizzard & The Lizard Wizard is the reason of this RETROGAMING SUPERFUTURE EDITION, that include:
- Clamshell box in Commodore 64 retro game style
- Booklet w/lyrics
- Street poster of the upcoming 2018 UK/EU Tour
- Guitar Pick with a KG/LW > AC/DC inspired logo.