Tue, Mar 27

Sprawl 2 (Soulwax remix)
I have no more words the explain how big is the talent of Soulwax, I don't know if I can define them as a band or a collective like Wu Tang Clan maybe?! they are like a music machine that continue its evolution, we love RadioSoulwax and this is a super present. In this episode Soulwax is taking care of Arcade Fire making a super remix for Sprawl 2. Animation by Lewis Kyle White, Gent video by SLWX bass player Stefaan Van Leuven. Enjoy!
Fri, Mar 23

HLT MIXTAPE
NT89 in a few years has set a benchmark in dance music, someone call it future techno but for NT89 it's not a matter of labels, it's all about techno music with a soul. At the age of 23 he's toruing the world spreading his word by producing atomic releases and remixes for the most important underground dance labels and artists. 2012 welcomes a shining momentum for this unique artist scoring the "Voices" Ep on A-Trak's Fool's Gold. No surprise if A-Trak said "Consistently one of the most interesting producers in electronic music. Love it." Here is an exclusive Mixtape for Hi-Lo Tunez in support of new european dates.
Mixtape:
NT89 - Voices / Fool's Gold ||| Destructo - Technology (Jan Driver remix) / BNR ||| Kolsch - OPA / Kompakt ||| Deetron - The Maze ||| Gingy & Bordello - Vaporizer / This is Music ||| Pipes - Sleeping / Bromance ||| Jaguar Trax - All I Dream is You / Non ||| Shakedown - At Night (Martin Buttrich remix) ||| Scuba - The Hope / Hotflush ||| Gesaffelstein - Control Movement / Bromance ||| 11:11 - Tourist Trap (Jamie Jones for Ryan remix) ||| Wazabi - Ripper (Henzel und Disco Nova remix) / GND.
MP3s download:
NT89 | HLT MIXTAPE | ZIP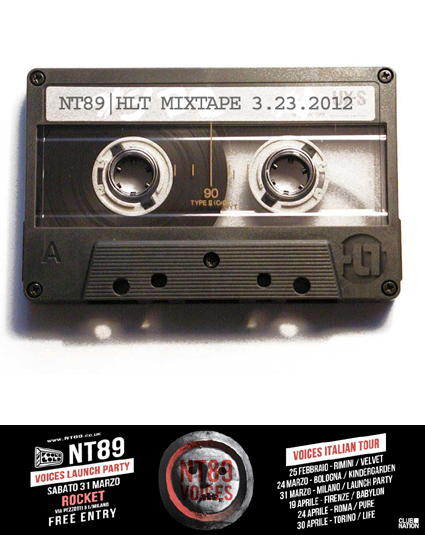 Mon, Mar 19

The Album Preview
Stimulations, thatís it! This the mostly awaited preview of the debut album of the Verbal. I donít know what you mean, when you listen to the word Post Rock. I was like the kind of guy that was in love of some bands of the 90ís that let me learn instrumental classic/jazz/ music played with rock instruments. I listend to hundreds different records from the beginning of this music story, in some ways I think there are too many bands in the scene, a part that sometimes comes out somethig that force you to say, fucking hell it rocks! Alright Verbal rocks off! Thatís it! Itís not about music style, prog rock, punk or any kind of crossover or variation of things. Itís more about the mood. You can clearly identify what Verbal are telling you with their music cause they forward all their experimentations direct to the crowd like an avalanche.