Fri, Jun 01

4th June 2012 Live, Alcatraz, Milano
Here we are to present one of the most magical indie rock artists of the late decade. Death Cab For Cutie on tour. After 6 years from the legendary concert at Rainbow, they come back in Milano for an unique gig at Alcatraz, monday 4th of june 2012. Here is a preview:
Sat, May 19

Mudhoney on tour, the legendary Seattle band is coming in Europe for some burning gigs: 5/20/12 "Nuits Sonores Festival". Transbordeur Club. Villeurbanne, France ||| 5/21/12 Bloom. Mezzago Monza e Brianza, Italy ||| 5/22/12 Circolo Degli Artisti. Rome, Italy ||| 5/23/12 Bronson Club. Ravenna, Italy ||| 5/24/12 Feierwerk. Munich, Germany ||| 5/25/12 "Festival Musiques Volantes". Cloitre des Trinitaires, France ||| 5/26/12 "I'll Be Your Mirror". Alexandra Palace. London, England, Notes: Mudhoney will play the second day of this three-day festival. Mudhoney's day is curated by Mogwai. ||| 5/27/12 "Villete Sonique Fest". Parc de la Villette. Paris, France ||| 5/28/12 Tivoli. Utrecht, Netherlands ||| 5/29/12 Het Depot. Leuven, Belgium ||| 5/30/12 La Sirene. La Rochelle, France ||| 5/31/12 "Primavera Sound Festival". Barcelona, Spain, Notes: Mudhoney is playing the second day of this four-day festival. Mudhoney will play on the ATP stage. ||| 6/1/12 Cabaret Aleatoire. Marseille, France ||| 6/2/12 "Bad Bonn Kilbi Festival". Bonn 2. Dudingen, Switzerland |||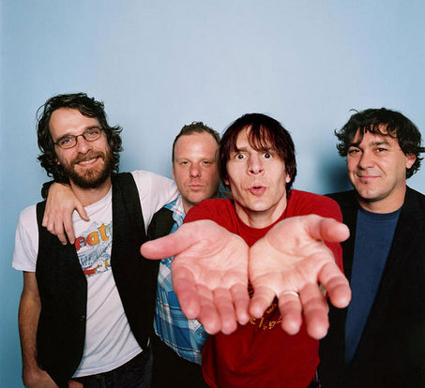 Sat, May 19
Dithyrambalina Live Performance
The Music Box is an interactive installation comprised of musical architecture. It was created by non-profit organization New Orleans Airlift in collaboration with 25 artists including the international street art star Swoon. The Music Box features a collection of purpose-built shacks and miniature houses, each containing an instrument or having instruments built into its structure. The wooden shacks that make up this "shanty-town" are constructed from salvaged materials reclaimed from a late-18th-century Creole cottage that collapsed on the site several years ago. Housing a slew of unconventional and inventive instruments, The Music Box offers its visitors a blank canvas to create music in an entirely new way. Between now and the end of June The Music Box will host a series of recordings sessions and pop-up performances in the space by amazing and diverse musicians including Thurston Moore, longtime Swoon collaborators Dark Dark Dark, the beloved Cajun musician Jo-El Sonnier, the sample-based band Javelin, the Brooklyn pop punk duo Japanther, and noise heroes Black Dice. Here is the past performance, featuring Jim White (Dirty Three / Cat Power) and Andrew WK.