Tue, Dec 14

Get Some (Beck remix)
When we posted the original version of this track recently, we remarked on how Lykke Li seems to get further and further away from the lovestruck little girl of "Little Bit" with every song she makes. Whether consciously or not, Beck seems to have arrived at a similar conclusion, "Get Some" getting ever tougher with ribald percussive thrusts and vocal cries put to the fore like saucy schoolgirl playground chants. Her new album Wounded Rhymes arrives February 28.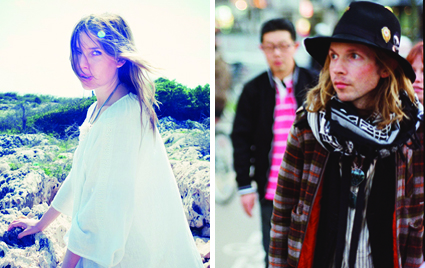 Fri, Dec 10

Can't Stop Me Now
Nearly 4 years on from their debut release 'Bring It On' Goose are back with a new album Synrise (out 6th February 2011) on !K7 and today have released a video to their new single, 'Cant Stop Me Now', directed by Megaforce.Starting with a snarling riff, it's not long before Can't Stop Me Now's silvery strings slide in and the track lifts off into effortlessly cool but unmistakably pop territory. It's hugely varied, epic stuff, clubby, yet poppy, starting bright and ending dark. The band — Mickael Karkousse (vocals/synth), Dave Martijn (guitar/synth), Tom Coghe (bass/synth) and Bert Libeert (drums) — started working on Synrise in early 2009. It was recorded in the oldest studio in Belgium, Jet Studios in Brussels. Artists who've worked there previously include The Rolling Stones and Edith Piaf. Synrise looks back to '70s space disco such as Automat and '80s movie soundtracks, names such as Philip Glass, Giorgio Moroder and Vangelis. The end result is more than the sum of these parts: it's an album of strong dance tunes with classic pop song structures. Goose are in London this week to play Brixton Academy on the 16th at Soulwax's annual Christmas party Soulwaxmass.
Thu, Dec 09

Carte Blanche for Sportmax
Carte Blanche collection's launch at Sportmax 450 W Broadway, Soho, New York City. Soundtrack by Thurston Moore (Sonic Youth) & Jukka Reverberi (Giardini di Mirò), Carte Blanche means full power and free initiative. In a military jargon, to give up. And so a complete surrender to fantasy and imagination that plays on the severity of abstract shapes. Carte Blanche is the first limited edition collection from Sportmax in which the artist is the decision maker. Chapter 2 in collaboration with American artist Kim Gordon.