Never Let Me Go (Aeroplane remix edit)
Aeroplane beam Human League back into the club-synth-disco-land where they always belonged! Awesome, will let "my kinda" dancefloors go wild!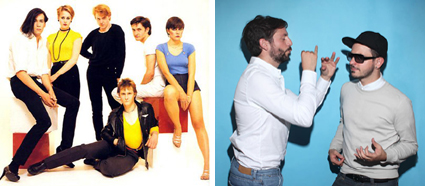 Helplessness Blues
It's been three years since Fleet Foxes' eponymous debut full-length, a record that was not only beloved by its fans, but was helpful in making copious harmonies the indie rock zeitgeist in 2008. The trickle into lo-fi with muted vocals and much that is more dank or electronic petered harmonies out. Emerging from there is "Helplessness Blues"—dripping with Simon & Garfunkel influence, even down to the lyrics, from romance to orchard work, the story told most emotively through the vocals. Their album, also titled Helplessness Blues, comes out May 3 on Sub Pop/Bella Union and should likely become your late night summer standby.