Fri, Aug 05

Anita Grey
Screaming Trees to release final album "Last Words: The Final recordings". In the waning months of the 20th century, legendary Seattle band Screaming Trees went back into the studio one last time. Having been released from their label and realizing that the outlook was grim, the Trees entered Stone Gossard's Studio Litho to preserve the last batch of songs the band had written. Financed by the band and produced by drummer Barrett Martin, these sessions proved to be their last. On June 25th, 2000, the Trees played their final concert in front of 20,000 people at Seattle's Memorial Stadium, after which the band members went their separate ways. The final recordings were never mixed or released, and for more than a decade, the original two-inch tapes lay gathering dust in the basement of Gossard's studio. Twelve years later, in the winter of 2011, Martin and long-time friend and producer Jack Endino found the two-inch multi-track reels, carefully baked and cleaned the tapes, transferred them to a digital format, and brought back to life those final 10 songs. To their pleasant surprise, the music had a raw, energetic quality, with the band cracking jokes and howling with laughter between takes - they were clearly having a good time. Mark Lanegan's smokey baritone was in top form and so was the band, with original members Gary Lee Conner on electric guitar, his brother Van Conner on bass, and Barrett Martin, the band's long-time drummer. REM's Peter Buck played acoustic guitar and electric 12-string guitar, and QOTSA/Trees touring guitarist Josh Homme played guitar on one song as well. These final sessions were a remarkable last testament to the band's impressive 15-year career. This final Screaming Trees album is appropriately titled "Last Words: The Final Recordings" and will be released internationally as a digital download on August 2nd, 2011 on Barrett's label, Sunyata Records, through IODA Digital Distribution. CD and vinyl versions of the album will be released on October 18th, 2011, with the album art being designed by world-renowned artist Erin Currier. There are no plans for a reunion, as the band members are finally well-adjusted adults who get along with each other and have happily moved on with their lives. Gary Lee started a family and the band, Microdot Gnome, and Van, also a family man, started the band Valis, as well as the label Strange Earth Records. Barrett started his own label, a jazz group, and became a college professor, and Mark has cultivated a highly successful solo career, being recognized as one of the great singers of his generation. Instead of a reunion like so many other bands have done, the Screaming Trees just want to make this final album available to their friends and fans - their Last Words, so to speak.
Wed, Jul 27

You Make The Sun Fry
Goodbye Bread, the new album by rocker-for-life Ty Segall, is the definition of a grower. On first listen, it almost seems too familiar, but as the songs stack and slowly unfold, you realize something special is going on. This is a songwriter at peak strength with great arrangements, surprising turns and the ability to flip something so clearly pegged to sweaty live performances into a studio treat. Check "You Make The Sun Fry" -- a track which matches the grimy blues-rock glory of early Rolling Stones or Captain Beefheart's Safe As Milk with a dose of '90s sunny slacker posturing. Goodbye Bread is available now on Drag City.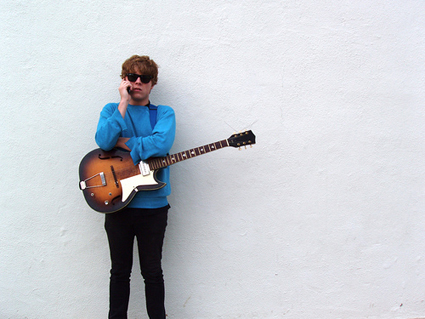 Sun, Jul 24
Live in Roma, july 22nd 2011, super show
I love Primal Scream music and I saw 4/5 gigs in the past, amazing experiences all time. I was going in Rome to see their Screamadelica tour thinking about the weather the beautiful Rome but I never thought to see a show like that. The Auditotium is an amazing place and people can stay close the stage, well is quiet incredible, all the people start to go on stage to dance during the encore, no way for security to calm down the crowd under the bit of "Rocks". The end? Bobbie Gillespie over the drum the crowd all around the band on stage and probably the kind of show that will remain in the Primal Scream history. The sound of the video is a shit but I didn't plan to film something like that.