Sat, Dec 03

City Grrrl (feat. Ssion)
Fresh off their second US tour of the year, CSS have released the video for "City Grrrl," the second single off their latest album, La Liberacion. The eye-popping, colorful video shows Lovefoxxx with the pink hair and black lipstick heralded in the song's chorus, showing her effortless swagger. The track is one of lead singer Lovefoxxx's most autobiographical songs to date. She explains: "I revisited my teenage years while living in the suburbs of my hometown. I'd be on the floor of my bedroom making the most ridiculous clothes and glue fake colored hair or x-ray pictures on clothes. I'd be sporting goth make up at 8am and when I hit the streets people would curse me from their cars in the most aggressive way. [Calling me] 'drag queen', 'whore.' " The song captures the sentiment of feeling like a true outsider and yearning to escape to a big city to find fellow outcasts. La Liberaciónis out now on V2/Cooperative Music USA/Downtown Records. It features collaborations with Ratatat, Primal Scream's Bobby Gillespie, and Mike Garson (who played piano on David Bowie's "Aladdin Sane").
Sat, Dec 03

VCR (The XX cover)
After the success of Burst Apart earlier this year, The Antlers are taking an odd-and-ends victory lap that includes a few choice covers. Our favorite is their take on The xx's austere "VCR." Everyone (well, Drake and Rihanna, at least) has been flirting with and on top of The xx lately, and this is another interesting flip on their work that keeps the ice intact while adding galloping drums and wigged-out soundscapes. Find more on (together), which is out November 22 on Frenchkiss.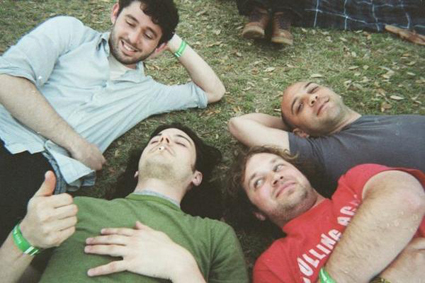 Sat, Dec 03

The Dream
San Francisco's Thee Oh Sees has had numerous incarnations over the years after initially being formed as a solo project by musician John Dwyer. The now five-piece's latest, Carrion Crawler/The Dream, is an exuberant collection of groove-driven indie barnstormers. "The Dream," a jubilant track, spans nearly seven minutes, combining gleeful guitar riffs with dance-laden rhythms. There's a wide-eyed mania to the music that's as terrifying as it is compelling.