Born To Lose
Sleigh Bells new album "Reign Of Terror" is quiet ready, out next February 2012. "Born To Lose" is the first single in advance, same sort of cheerleader-like vocal chants and voraciously fuzzy guitar riffs of debut album.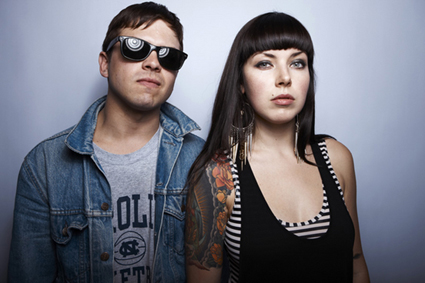 Sprawl II (Mountains Beyond Mountains)
Arcade Fire made different versions of their new video Sprawl II, there is a constantly traditional version here under, you can also find a most interactive version on [ www.sprawl2.com ]. This is another pearl is coming out their multi awarded masterpiece "The Suburbs".

Hardcore Or Die
It was the beginning of August 2011, Steve [Slingeneyer ndr, SLWX+OneManParty] and I started to speak about Hard Core music, remembering tapes, 7" and many other DIY and demo tracks of our youth. After several months this kind of trip, becomes a video mixtape for Radio Soulwax. We can't pretend to have been huge hardcore punk fans at the time, but have grown to love it now, with help from some friends but most of all from Steve. Using our records and his tapes (of local hardcore radio shows from northern France), we tried to give you our take on 80s hardcore. Some people might feel it's not very respectful, but listen, those guys take themselves way too seriously and by cutting it up the way we did, we feel we have kept to the original spirit and energy of the music. This show contains some of the best sleeves yet on RSWX.
Hardcore or die from Radio Soulwax on Vimeo.