Mon, Apr 12

It's starting the Design Week in Milano one of the most important weeks of the year as well the fashion design week. Big events all days of the week regarding design, forniture and music. Wednesday 14th special night at Plastic including Klaxons, Venice, Natasha Slater & Victeam.
here
.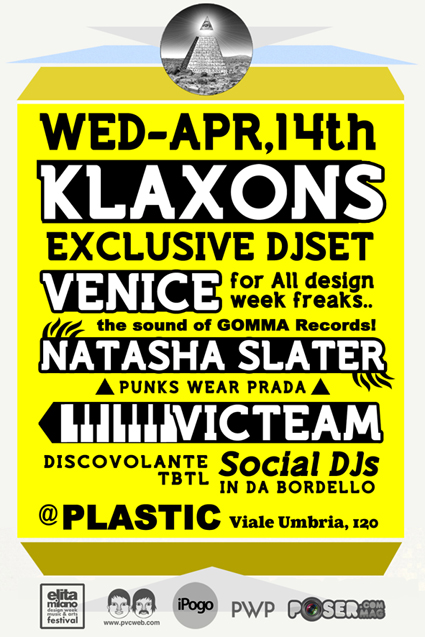 Sun, Apr 11

We are Water
Brand New video for Health second album Get Color, directed by Eric Wareheim. Health are the new fresh side of the noise music.
HEALTH "We are Water" from Eric Wareheim on Vimeo.
Fri, Apr 09
Remember Last Time
Avi Buffalo is the adopted name of Avigdor Zahner-Isenberg, an 18 year-old singer/songwriter and guitarist from Long Beach, CA. Avi Buffalo is also the name of the band he formed with Rebecca Coleman (keyboards and vocals) and friends like-minded collaborators Sheridan Riley (drums), Arin Fazio (bass). It (Avi Buffalo) is also the name of his/their debut full-length album, which we are just ridiculously puffed-up about releasing on April 27, 2010. This is a preview in andvance.