Contest: The HLT Plan: 21th Step + Radio Soulwax
The 17th of October is the Cassette Store Day 2015, HLT present two special releases on Cassette, 'Friendly Enemies' The Hi-Lo Tunez Plan: 21st Step and Radio Soulwax 'Hardcore Or Die'.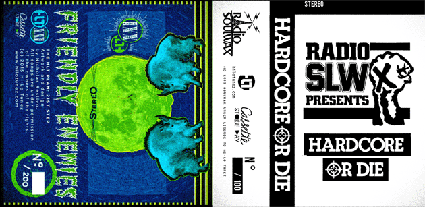 'Friendly Enemies' include brand new stuff by: Protomartyr feat. Kelley Deal, Hey Colossus, Palehound, Shana Cleveland & The Sandcastles, Dirty Ghosts, J.C. Satàn, Death Valley Girls, Pearl Charles, Froth, Hippies Vs Ghosts, Blacklisters, Coaster. Limited edition 200 hand numbered tapes.
We have a second special release: Radio Soulwax 'Hardcore Or Die', re-edited and mastered by Soulwax for the cassette, limited 100 hand numbered copies, the most furious tape we ever heard."
cassette artworks by: Fergadelic & Nicholas Restivo
Hardcore or die from Radio Soulwax on Vimeo.
CONTEST:
3 tapes of the Plan for you people! Be the faster to answer next question and win your copy ->
What's the name of The Hi-Lo Tunez Plan: 2nd Step?
Answers to: themusicsoundsbetter[at]hilotunez[dot]com
Winners on the HLT
facebook
page next week.
These are the shops where you can find our tapes tomorrow:
UK: ROUGH TRADE -> LONDON | BANQUET -> KINGSTON UPON THAMES | INKWELL -> YORK | RESIDENT ->BRIGHTON | CRASH -> LEEDS | PIE & VINYL -> SOUTHSEA | UNDERGROUND SOLU'SHN -> EDINBURGH
FRANCE: BALADES SONORES -> PARIS
BELGIUM: WOOL -> GENT
WORLDWIDE: OUR WEBSITE

Rehumanizer II
Maserati is coming out with a new record and 'Rehumanizer II' is my track of the week. They are an unbeliavable combo between Pink Floyd and Gary Newman, they developed during years the sound from the post rock of the beginning to kraut rock and electronic stuff. I suggest you to spend time to listen to all their records, Maserati is one of the best instrumental bands all around today.

You Can Only Get What You Want
I don't know so much about these guys. They are coming from Milwakee and this EP it's a bomb! direct like a fist in face, great guitar riffs, hope you enjoy it.