Fri, Aug 06

The Hair Song
A title like that befits something of equal simplicity and gusto, and "The Hair Song"'s unhinged, tobacco-stained, porch-friendly swing is about as direct and meaty as Black Mountain get. The Vancouver quintet's new album, Wilderness Heart, is due out September 4 through Jagjaguwar. It has a shark on the cover, which obviously symbolizes its face-eating powers.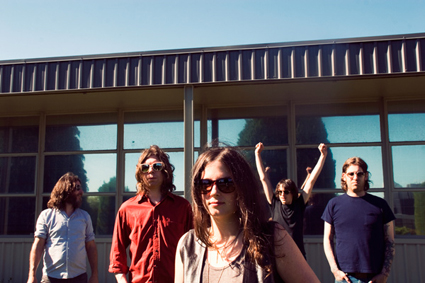 Fri, Aug 06

Live @Madison Square Garden, AUG 5TH 2010
Arcade Fire live at Madison Square Garden directed by Terry Gilliam, no more things to say.
Pre-Show, Behind the Scenes
Rococo
Empty Room ft. Owen
Wake Up
Wed, Aug 04

Let's Get Out Of Here
If there's a live band that kicks it harder, louder, and with more abandon than Les Savy Fav, we haven't heard of them. Fifteen years of art-punk flailing have culminated in "Let's Get Out Of Here," and the result is loose, precise, hopped up and perfect. These dudes are talented nutjobs and they should never, ever change.