Wed, Nov 03

Constellations
Is there a more delightfully offbeat pop star than Darwin Deez right now? It's highly doubtful, and this wonderfully off-kilter debut album is testament to that. Darwin is already known for his captivating live shows (complete with sweet dance moves that you need to see to believe!), his quirky style, all the way down to the way he strings/tunes his guitar- only 4 strings, sans the E strings with his own secret, invented tuning!. Now we're excited to announce that Darwin's self-titled debut album is seeing a release, due out February 22, 2010 via Lucky Number! To celebrate this momentous occasion, we're offering you the incredible Carl Sagan-inspired video for "Constellations," directed by Terri Timely!
Wed, Nov 03

Louder Than Ever
It's been a couple years since indie rockers Cold War Kids have released an album, but January 25, 2011 will see the release of their third studio album, Mine Is Yours. We're very excited to unearth the album's first single "Louder Than Ever". Its been something of an in-office anthem at RCRD LBL, the vibrant hook providing us much satisfaction as we keep hitting replay. We can only imagine that its power takes even more shape in their live shows.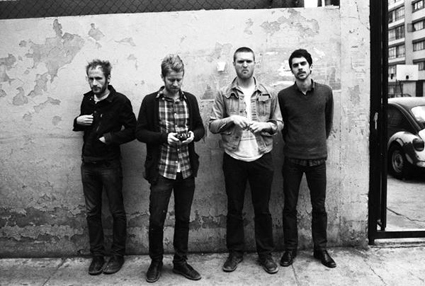 Wed, Nov 03

Me And The Moon (Twin Shadow REMIX with No FX)
The name "Me And The Moon" immediately invokes the sweetness of a bedtime story or a lullaby. The Drums' original is your favorite '80s teen romp, but when Twin Shadow steps in, he brings it back to hitting the hay by flipping it into ecstatic dreaminess. This is like being catapulted from the beginning of slumber into a full whirlwind REM cycle where your nocturnal narrative is replete with hydraulic roller skates that take you pretty much wherever you want to go.