Fri, Jun 17

Rex The Dog launches his own night at Dalston Superstore presenting newcomers RUFUS&Bambi, analogue synth purists Pleasure Cruiser and finishing with a two hour DJ/Live set from Rex himself. The music policy is strictly electronic, so don't expect to hear real disco, but do expect synths, melodies and sequenced basslines taking in Synthpop, Chicago House, Italo Disco, all the way up to the present day and beyond. Each edition of BREED will feature its own hand screen-printed T shirt, limited to a run of 100, and a swarm of laser eyed Robo Rexes in the upstairs bar. Free entry and late license until 3am. all info here: http://rexthedog.net/newsletters/breed-01.htm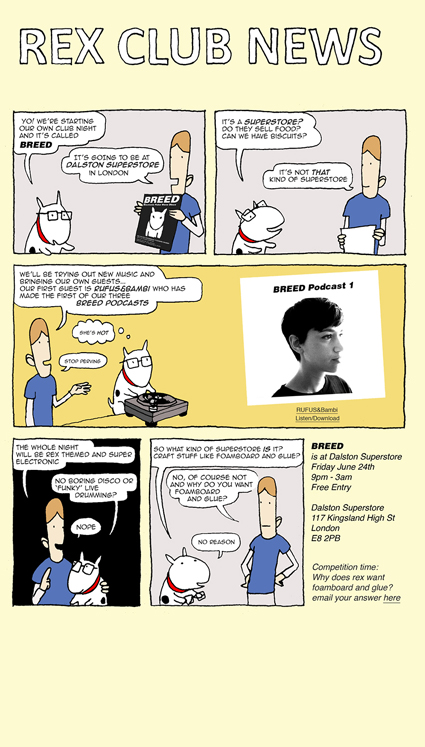 Wed, Jun 15

Boots Electric Them (feat. Brody Dalle)
After creating three albums of dirty and danceable garage rock anthems, Hollywood's favorite son and Eagles of Death Metal frontman, Jesse "The Devil" Hughes, is unveiling his solo debut as Boots Electric. Titled Honkey Kong, the album will be released on September 20th by Dangerbird Records. Itwas produced by Tony Hoffer (Beck, Depeche Mode, The Kooks) and co-written with legendary keyboardist Money Mark, best known for his many collaborations with the Beastie Boys.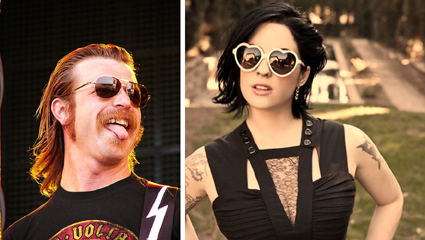 Tue, Jun 14

Emotion (Reset! Remix)
Sex. Vomit. Dance. Reset!'s big house flip of NAPT's "Emotion" invokes all three. The slapping bass throbs, diva samples break a sweat, and rollercoaster beats shudder and heave. And to think, it's only the first release from the rising UK funky/rave/dubstep dudes, on their new label Red Sugar. Five bucks says it'll become one of our favorite London providers in the years ahead.