Mon, Apr 20

Reworks New Jaga Jazzist Track 'Oban'
Teasing ahead to their brand new album Starfire, Norwegian octet Jaga Jazzist drop the thundering 12-minute synth juggernaut that is Oban backed with a stellar rework from friend and fellow countryman Todd Terje (Olsen Records). As expected, Mr Terje smashes it out of the park, turning in a smouldering heater of epic proportions; head to Pitchfork to listen in full. Terje's remix will be backed with the original track on a limited run of 12" transparent vinyl, released 18 May. Pre-order your copy from the Ninjashop Oban is the second track the band have shared from their upcoming new album, Starfire, the title-track of which you stream below.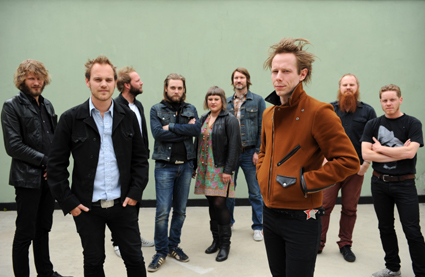 Thu, Apr 16

I Was Someone Once
Gave Fulvimar's new spaced out synth side-project Pleiades [aka Gap Dream] is out saturday on Burger Records for the Record Store Day fun. Limited to 500 copies.
Wed, Apr 15

Anaconda Flow EP
Danny Wolfers, most frequently known as Legowelt, is a producer and performer who has worn many hats, all of them styled with finesse. His range is immense but never disparate; through releases for Clone, L.I.E.S., Creme Organization and Peoples Potential Unlimited (among others) Legowelt has spanned everything from frosty techno, sprawling boogie and melodic acid house to chugging electro without sacrificing bonafide quality or pandering to the fad du jour. In his newest effort, a debut EP for Fotomachine's Technicolour imprint entitled Anaconda Flow, listeners are treated to that dynamism in its very finest form. Uplifting, dreamy synth sequences are incorporated alongside his instantly recognizable gritty floor-fillers for a four-piece package that will both delight the home listener and devastate the dance. His long-demonstrated devotion to hardware is utilized here to extraordinary effect: blips bubble to a murky surface, twinkles cascade from above and a kick drum pulses straight through everything it touches—all in all a darkly immersive little jewel, though who would have expected any less?