Mon, Dec 12

This Is Not A Song
I donít trust anyone these days, and Islands isnít helping by calling their new song ďThis Is Not A Song.Ē Fortunately, itís a piano pop ode to moving on with supple guitar leads and a slowburn organ that will make you want to hold someoneís hand. Maybe, just maybe, Iíll open my heart again when Nick Thorburn and coís new A Sleep & A Forgetting drops on Valentineís Day on ANTI.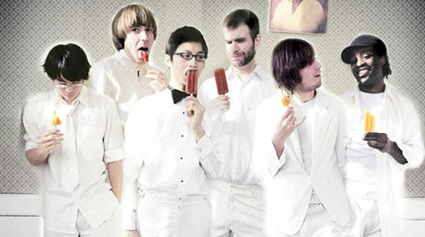 Sat, Dec 10

Patchwork
Brand new video for Appaloosa, the paris/london duo, who made releases under Kitsuné and Italians Do It Better with special remix by Glass Candy, is ready with a new Ep under portugalís Discotexas. One of favourite Cat Powerís band recently appeared during the fashion week in Milano in a super show for D&G. Patchwork itís a dreaming electro pop song perfect for wintertime.
Fri, Dec 09
Happy In Bits
It's hard to think of a band whose music gives a more thrillingly clear picture of what living in 21st century Britain is actually like than Prinzhorn Dance School. The duo have played to ecstatic crowds across Europe and now Tobin Prinz (voice, guitar, drums) and Suzi Horn (voice, bass, drums) are bringing their unique brand of encouragingly hopeful tunes to the US. Prinzhorn Dance Schoolís second record, Clay Class, will be released January 31st on DFA Records.
Prinzhorn Dance School / Happy In Bits from DFA Records on Vimeo.