Fri, Dec 09
Happy In Bits
It's hard to think of a band whose music gives a more thrillingly clear picture of what living in 21st century Britain is actually like than Prinzhorn Dance School. The duo have played to ecstatic crowds across Europe and now Tobin Prinz (voice, guitar, drums) and Suzi Horn (voice, bass, drums) are bringing their unique brand of encouragingly hopeful tunes to the US. Prinzhorn Dance School's second record, Clay Class, will be released January 31st on DFA Records.
Prinzhorn Dance School / Happy In Bits from DFA Records on Vimeo.
Thu, Dec 08

Little Shocks
Veteran British indie band Kaiser Chiefs are back with a herky-jerky dose of mystery. "Little Shocks," a sample from the group's new album set for March 6, is certainly noisy new wave, but we're a bit suspicious of its motives. "I don't want much," singer Ricky Wilson intones. "I'm happy with what I got." That's a great sentiment, yet the song sounds like something you would listen to while stealing important documents from a heavily-guarded government warehouse. Very sneaky, these guys.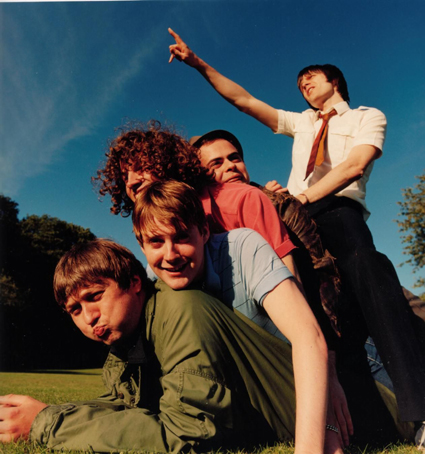 Thu, Dec 08

The Unknown Faces at Father James Park
henomenal Handclap Band is preparing the release of the follow-up to their acclaimed, self-titled debut album. Form & Control, PHB's ambitious new work takes their clever fusion of international psych, soul, and cosmic disco a bold step forward. With co-founders Daniel Collás and Sean Marquand at the production helm, Form & Control finds the band once again deftly mixing and matching seemingly disparate musical genres, with a musical palette that now includes prog-pop, new wave and modern leftfield dance. This is the debut single out of the new album "Form & Control" out in February 2012.