Sat, Dec 08

Moon, Happy Monkeys & hop Maniac Apes
The Assyrians are a bunch of kids whom were taking time playing in the underground rock n' roll punk scene, running different bands during late years. They made dream pop and psychedelia their natural dress. This our video of the week, directed by Michele Comi, it's so funny and this track kick ass. The brand new ep is available on tape and digital through Bored Youth Records. Check it out!
directed by from Michele Comi on Vimeo.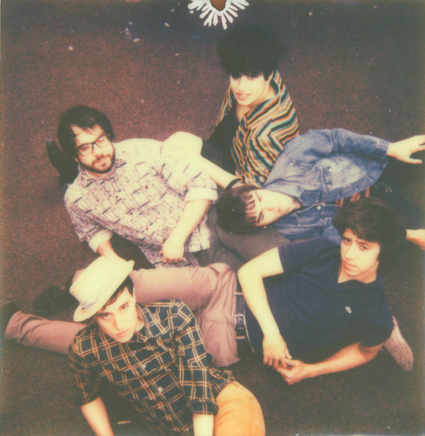 Tue, Dec 04

WhoMadeWho had their way with Mark Lanegan's "Deep Black Vanishing Train", while Lanegan responded with a cover of WMW's "Below the Cherry Moon", from their latest release "Brighter". The very limited vinyl will only be available through the website www.wmwlanegan.com (where you can listen a preview) which launches December 1st. December 31st both tracks will also be made available digitally. During the past few months both WhoMadeWho and Mark Lanegan have been working on each other's tunes. Earlier this year, the Copenhagen based trio reached out to Lanegan with the idea of a joint release, the idea seemed to be obvious to Lanegan: "I think they're really great. They've made some great albums and I'd consider myself a fan." In the meantime WhoMadeWho started working on Lanegan's "Deep Black Vanishing Train" from his amazing album, "Funeral Blues". The warm feelings and respect for a fellow musician are also reciprocated by the Danes towards Mark. As guitarist and co-vocalist, Jeppe Kjellberg, adds " It's a great honor to get this kind of respect and recognition by a musician you admire. I was very moved the first couple of times I heard his take on one of our songs. His deep voice and this authentic American accent highlights the feeling and lyrics even more. " The two tracks will be released on a red 7", limited to only 1.111 copies. The hand numbered vinyl will be shipped in a custom made envelope that will stress that you should not open the package and spin the record before Christmas day. The collaborating musicians have also decided, that on the time of Christmas celebrations and in the spirit of giving, all the money from the proceedings of the release should be donated to support the work of Amnesty International. http://www.amnesty.org/

Wed, Nov 28

Femme Fatale (Velvet Underground cover)
The Velvet Underground & Nico album was one of the most underrated albums of its era. It was not a big success of that time, a lot of people was thinking it was a simply egocentric trip of Andy Warhol. After some decades Velvet Underground is recognised as one of the most influential bands of the 70's, sometimes happen. Beck Hansen started 2 years ago the Record Club, a project in which he re-recorded entire albums with friends, The Velvet Underground & Nico was one of the first albums chosen for the project. Here we are in 2012 and Castle Face, super underground label of Thee Oh Sees's leader John Dwyer, is releasing on vinyl a special remake of the album including a lot of friends and a special cover by glaswegian artist David Shrigley (take a look his works are amazing). The list include Thee Oh Sees for sure, The Fresh & The Onlys, White Fence, Ty Segall and more. The first 500 numbered copies are sold out, but the second press is on board and you can pre-order a copy at [www.castlefacerecords.com].