Mon, Aug 02

Infinity Guitars (live)
Sleigh Bells, the new noise sensation of indie scene permorming Infinity Guitars at Public Assembly for CMJ Show. The duo produced by M.I.A. is going to make a gigs in august at: The Lexington - London the 9th (UK), Oya Festival - Oslo the 11th (NORWAY), Way Out West Festival - the 13th (SWEDEN), Flow Festival - Helsinki the 14th (FINLAND)
Wed, Aug 04

Let's Get Out Of Here
If there's a live band that kicks it harder, louder, and with more abandon than Les Savy Fav, we haven't heard of them. Fifteen years of art-punk flailing have culminated in "Let's Get Out Of Here," and the result is loose, precise, hopped up and perfect. These dudes are talented nutjobs and they should never, ever change.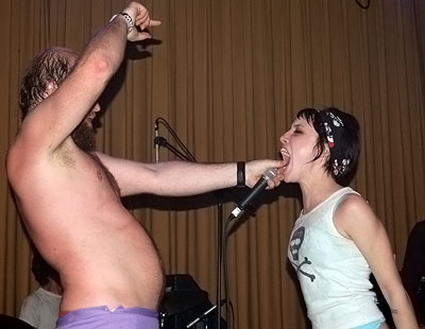 Fri, Aug 06

Live @Madison Square Garden, AUG 5TH 2010
Arcade Fire live at Madison Square Garden directed by Terry Gilliam, no more things to say.
Pre-Show, Behind the Scenes
Rococo
Empty Room ft. Owen
Wake Up