Where I'm Going
Apparently where Cut Copy are going is a place where classic rock radio plays all the time and tap water is actually lemonade. This MP3–the first hint of their new, as-yet-unfinished record–is pure flower child pop: rag tag drums, tie-dye melody and those keyboards from "Baba O'Riley" that sound like they could fill the sky.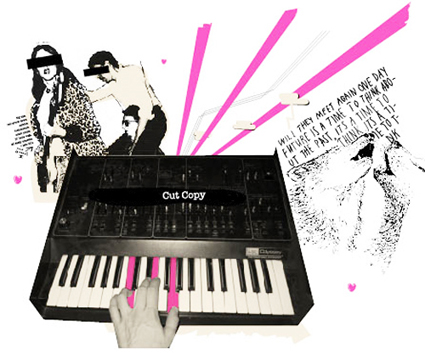 Ivory Tower (A New Feature Film Written and Produced by Chilly Gonzales!)
Check Out "I Am Europe" Music Video/ Film Trailer hereunder. Chilly Gonzales has been creating magic behind the scenes of some of the past decade's favorite artists (Feist, Peaches, Jamie Lidell), has established himself as a worldwide entertainer renowned for his Piano Talk Shows (recently ones with Andrew WK, A-Trak, Sia) and holds the Guinness World Record for longest solo concert (27+ hours!). So what is left for him to tackle, you may ask? Writing and producing a feature-length FILM, of course!!

Home
Surfing into earshot on a tide of xylophone chimes come Tokyo foursome The Suzan, an all-girl quartet whose excursions into summery indie-pop, ESG-styled dance grooves and punky guitar jangle impressed Peter, Bjorn and John's Bjorn Yttling so immediately he agreed to produce their debut album over MySpace message. New single "Home" is a brilliant introduction to that full-length.