Mon, Jul 22
Of Montreal

Fugitive Air
Of Montreal presents the new single 'Fugitive Air' taken from the forthcoming album 'Lousy With Sylvianbriar', out on Polyvinyl Records as usual the 8th of october 2013. Barnes went on a writing retreat to San Francisco, where he spent two weeks exploring the city's various neighborhoods while writing the new album. "Lousy with Sylvianbriar" is a dramatic shift in style compared to the band's last full lengh release, "Paralystic Stalks. This new album finds Barnes revisiting his roots, connecting with 60's, 70's bands like Bob Dylan, Neil Young, Big Star and other classics. Recorded at Barnes' home studio on a 24-track analog tape machine it's an album to be played very loudly at parties and with eyes closed, in headphones, alone. 'Lousy With Sylvianbriar' is available for pre-order on CD, LP (180-gram clear sea-grlass green vinyl) and cassette (sold out).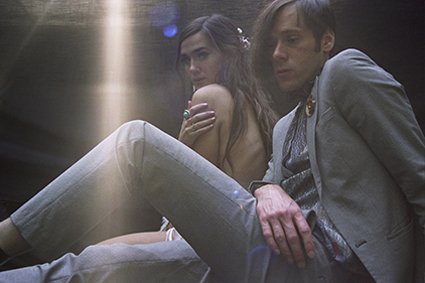 share
due to a spam attack, comments are temporarily disabled
we hope to enable them soon...