Thu, Mar 10

The Festival that will make you on fire!
Sweat! Passion! Energy! & Love! These are all the components that made the first Electrovenice edition possible! The 10th july of 2010 the best dance dj's worldwide in an unique line-up inside San Giuliano Park in Venice Italy made the SHOW!
The Countdown of the 2011 edition is on… in a few days we will inform you about Headliners, Line-Up and Tickets… …Check It Out!
Tue, May 10

Following the success of the first edition, Electrovenice comes back the 18th of June at San Giuliano park in Venice (Italy). A lot of wonderful artists of the contemporary electro-house musicscene on stage. Headliner is Fatboy Slim, king of the rhythm, and creator that kind of personal brand nnamed worldwide as big beat. If you think is not enough, on Alfa Mito stage you'll find a bunch of incredible artists such as Sven Väth pioneer of the ambient techno, Mixmag rated his album "Accident In Paradise" one of the top-50 dance album of all time. Deadmou5, super producer recognised as the most interesting son of the Daft Punk's sound. Afrojack who is become one of the best remixer of the last year working for David Guetta and others. Goose the belgian band that still making dance all over Europe. Reset! the most important italian crew of electrofunk dj's today. NT89 one of the best newcomers of the electro world scene, a young guy who was able to conquest dj's like Tiga, A-Trak, making atomic remixes and amazing tracks. You can reach tickets on-line at
www.ticketone.it
. Special Price € 40,00 until the 15th of may – € 45,00 until the 17th of june - € 50,00 at the door of the park. Prices are not including pre-sale rights. Take a look to
www.electrovenice.com
for every other information. here.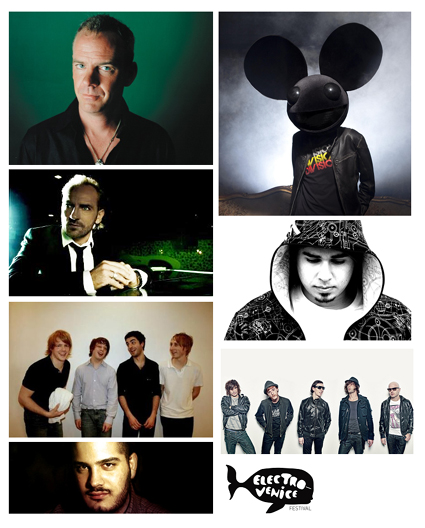 Fri, Jun 17

Rex The Dog launches his own night at Dalston Superstore presenting newcomers RUFUS&Bambi, analogue synth purists Pleasure Cruiser and finishing with a two hour DJ/Live set from Rex himself. The music policy is strictly electronic, so don't expect to hear real disco, but do expect synths, melodies and sequenced basslines taking in Synthpop, Chicago House, Italo Disco, all the way up to the present day and beyond. Each edition of BREED will feature its own hand screen-printed T shirt, limited to a run of 100, and a swarm of laser eyed Robo Rexes in the upstairs bar. Free entry and late license until 3am. all info here: http://rexthedog.net/newsletters/breed-01.htm